Dealership Info

1855 I-10 South
Beaumont, TX 77701

Ext to Service: 6347
Parts Department: 7110-4951
Sales: 7110-4952

Service Hours:

Monday- Friday 7am-6pm
Saturday 8am-4pm

Amenities: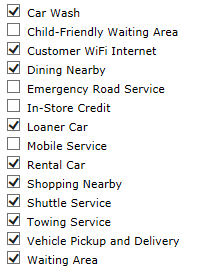 Roadside Assistance:

(800) 332-4269

BMW Alternate Protection Plan Info:

(lost or misplaced tire warranty or warranty package & warranty verifications)

(800) 269-4559

Click Here to View Owner's Manuals

Recall Lookup (BMW)
Recall Lookup (MINI) 

Coupons
Coupon Policy:
Please inform customers that they must present all coupons at the time of service write-up!  

Click Here for Service Specials

Competitor Coupons:

Expired Coupons:

Detailing
Detailing:
$99

Includes hand wash, carpet shampoo, wax, detailed interior cleaning, top of engine cleaning, tire dressing

Third Party- onsite

Do not book an appointment

It takes about 4 hours

Referrals
Referrals:
  

Towing:

  

Vehicles still covered under Roadside Assistance:

(800) 332-4269
New Vehicles:
4 years from the original in-service date, with no mileage restrictions.
Certified Pre-Owned Vehicles:
6 years from the original in-service date, with no mileage restrictions.
  

Vehicles no longer covered under Roadside Assistance:

(409) 842-5155
If using a referred towing company, charges can be billed directly to the customers' Repair Order (RO).
If using a non-referred towing company, payment maybe required by the towing company upon delivery.
  

Collision Center:

Window Tinting:

Sched. Preferences
Scheduling Preferences:
BMW of Beaumont does NOT service MINI's.

Preferred Advisor: 

BMW Assist App:

Customers that need help with their BMW Assist APP should contact BMW Assist™ Customer Care at 1-888-333-6118 or customercare@bmwassist.com

Ask the customer if they have been notified by BMW via mailer, in-car messaging or email. If so, Please see service "GSM Combox SIB840816" for further instructions.

BMW Synthetic Oil Service Intervals:

To clarify BMW's recommended synthetic oil service intervals:

1999-2013 All models – Once a year or when the vehicle says it's due, whicheve10,000comes first. Depending on the model and the client's driving habits it will be 10,000 – 20,000 miles (most will be 15,000 – 20,000 miles).

2014 All models – Once a year or 10,000 miles, whichever comes first.

BMW Maintenance Program:

Call Back (ex: TeleService): 

Car Wash:

Diagnostic Fee:

Due Bill/We Owe:

Emergency Appointments:

Express Lane:

Flood/Water Damage:

Key Appointments:

Non-Brand Vehicles:

Radio Codes:

Same Day Appointments:

Saturday Appointments:

Squeaks, Rattles, and Noises Cutoff Times:

State Inspections:

Warranty Work:

Windshield Replacement:

Recalls
Recalls:
  

Scheduling Instructions:
Verify VIN
Refer to Xtime; enter recall title/number, follow scheduling instructions by clicking the information icon.
If not found, follow instructions on Factory Recall Campaign information icon.
  

  

The National Highway Transportation and Safety Administration (NHTSA) is a government agency created to help inform customers of reported issues regarding their vehicles. It is a national database for all manufacturers. GP1 uses this site as a backup to the manufacturers recall page.

  

Recall titles in Xtime contain a combination of searchable identifiers:

Recall #NHTSA – if applicable
Manufacturer # – if known
Brief Description of Concern – as obtained from NHTSA

Ex. Recall #16V000 (123) Takata Airbag
Ex. ZE7 Oil Consumption Warranty Enhancement

  

Definitions/FAQs:

NHTSA Number

Manufacturer Number

Vehicle Identification Number (VIN)

What do the results of my VIN Look up Mean?

  

Searchable by VIN:

Recall

Service Campaign

Limited Service Campaign (LSC) / Special Service Campaign (SSC)

  

Not Searchable by VIN:

Technical Service Bulletin (TSB):

Customer Support Program (CSP) / Warranty Enhancement Program (WEP):

Limited Customer Support Program/ Limited Warranty Enhancement Program:

Transportation
Transportation:
  

Drop Off & Early Bird/After Hours:

Waiter:

Shuttle:

Loaner:

Rentals:

Valet/Pick Up & Delivery:

Flexible Mobility Program (Long Distance Travel for i3 & i8 Electric Vehicles):