Dealership Info
1230 Fording Island Rd Hwy 278
Bluffon, SC 29910
Ext to Service: 6369
Parts Department: 7155-2951
Sales: 7155-2960
Service Hours:
Monday-Friday 7:30am-6pm
Saturday 8am-5pm
Amenities: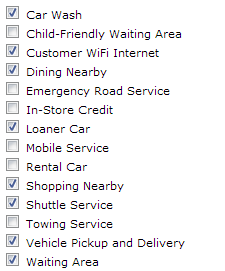 Roadside Assistance:
(800) 332-4269
BMW Alternate Protection Plan Info:
(lost or misplaced tire warranty or warranty package & warranty verifications)
(800) 269-4559
Click Here to View Owner's Manuals
Recall Lookup (BMW)
Recall Lookup (MINI) 

Coupons
Coupon Policy:
Please inform customers that they must present all coupons at the time of service write-up!

Click Here for Dealership Specials

Regarding the $89.95 Oil Change Promotion:

8 Cylinder, Diesel and M model vehicles are not eligible for this promotion.

Competitor Coupons:

Expired Coupons:

Detailing
Detailing:
Complete Detail:

Exterior/Interior Detail:

Referrals
Referrals:
  

Towing:

  

Vehicles still covered under Roadside Assistance:

(800) 332-4269
New Vehicles:
4 years from the original in-service date, with no mileage restrictions.
Certified Pre-Owned Vehicles:
6 years from the original in-service date, with no mileage restrictions.
  

Vehicles no longer covered under Roadside Assistance:

Carolina Towing

(843) 757-4433
Customer is responsible for charges, payment maybe required by the towing company upon delivery.
  

Collision Center:

Sched. Preferences
Scheduling Preferences:
All new 2017 BMW vehicles will now come with 3Yr/36Kmile, No Cost Scheduled Maintenance. As it is with the current program, this coverage is non-transferable.

Until now, every new BMW included maintenance for 4 years or 50,000 miles.
Furthermore, the new program will no longer include brake pads, brake rotors, wiper blades, engine belts, or manual transmission clutches.
As of March of 2016, BMW is now offering new maintenance program upgrades (MPU). These MPUs will be sold by the dealership and will further enhance and extended maintenance coverage. Please keep in mind that this only applies to 2017 models. Here is a chart of covered items. The chart is attached below, and this information can be verified via BMWusa.com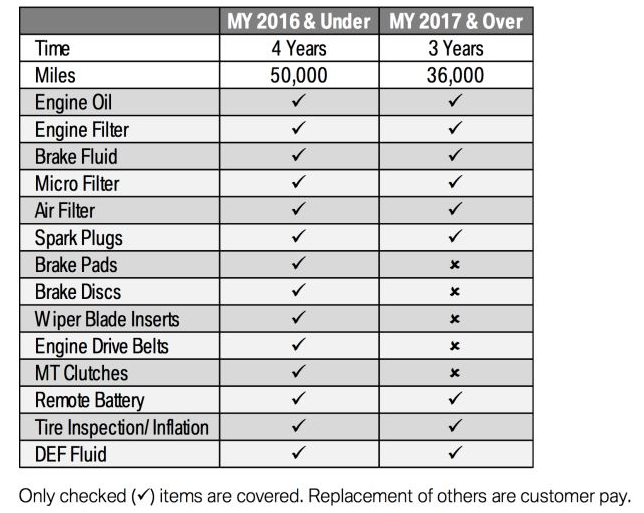 This dealership does have Nitrogen for tires – cost is $74.95 for all four tires

Preferred Advisor:

Schedule with "Any" unless customer has a preferred advisor.

For Saturday appointments: Schedule with Saturday advisor.

Teleservice Appointments through DealerSpeed – Schedule between 11:30am – 1:30pm

  

BMW Assist App:

Customers that need help with their BMW Assist APP should contact BMW Assist™ Customer Care at 1-888-333-6118 or customercare@bmwassist.com

Ask the customer if they have been notified by BMW via mailer, in-car messaging or email. If so, Please see service "GSM Combox SIB840816" for further instructions.

  

BMW Synthetic Oil Service Intervals:

To clarify BMW's recommended synthetic oil service intervals:

1999-2013 All models – Once a year or when the vehicle says it's due, whichever comes first. Depending on the model and the client's driving habits it will be 10,000 – 20,000 miles (most will be 15,000 – 20,000 miles).

2014 All models – Once a year or 10,000 miles, whichever comes first.

  

End of Lease Inspections:

Warm transfer to Sales 7155-2960

  

Pre-Purchase Inspections:

Pre-Purchase Inspections are performed here for $125

  

Car Wash:

Diagnostic Fee:

Due Bill/We Owe:

Emergency Appointments:

Express Lane:

Key Appointments:

Non-Brand Vehicles:

Radio Codes:

Same Day Appointments:

Saturday Appointments:

Squeaks, Rattles, and Noises Cutoff Times:

State Inspections:

Warranty Work:

Windshield Replacement:

Recalls
Recalls:
  

Scheduling Instructions:
Verify VIN
Refer to Xtime; enter recall title/number, follow scheduling instructions by clicking the information icon.
If not found, follow instructions on Factory Recall Campaign information icon.
  

  

The National Highway Transportation and Safety Administration (NHTSA) is a government agency created to help inform customers of reported issues regarding their vehicles. It is a national database for all manufacturers. GP1 uses this site as a backup to the manufacturers recall page.

  

Recall titles in Xtime contain a combination of searchable identifiers:

Recall #NHTSA – if applicable
Manufacturer # – if known
Brief Description of Concern – as obtained from NHTSA

Ex. Recall #16V000 (123) Takata Airbag
Ex. ZE7 Oil Consumption Warranty Enhancement

  

Definitions/FAQs:

NHTSA Number

Manufacturer Number

Vehicle Identification Number (VIN)

What do the results of my VIN Look up Mean?

  

Searchable by VIN:

Recall

Service Campaign

Limited Service Campaign (LSC) / Special Service Campaign (SSC)

  

Not Searchable by VIN:

Technical Service Bulletin (TSB):

Customer Support Program (CSP) / Warranty Enhancement Program (WEP):

Limited Customer Support Program/ Limited Warranty Enhancement Program:

Transportation
Transportation:
  

Drop Off & Early Bird/After Hours:

Waiter:

Shuttle:

Loaner:

Rentals:

Valet/Pick Up & Delivery:

Flexible Mobility Program (Long Distance Travel for i3 & i8 Electric Vehicles):