Dealership Info

1717 Auto Park Way
Escondido, CA 92029

Ext to Service: 6428
Parts Department: 4528
Sales: (855) 791-0050

Service Hours:

Mon-Fri 7am-6pm
Saturday 7am-5:00pm

Amenities: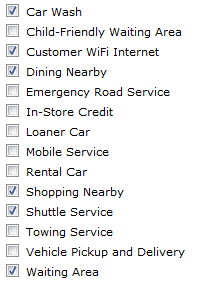 Roadside Assistance:

(800) 241-3673

Click Here to View Owner's Manuals
Detailing
Detailing:
Schedule in XTime 1 day out (24 hours)

$120 – Exterior wash, vacuum, interior protection, rim & tire cleaning, full wax, floor mat cleaning 

$60 – Interior only (shampoo carpet, floor mats and seat, interior armor all protection)

$30 – Exterior only (exterior wash, tire shine, quick vacuum)

Referrals
Referrals:
  

Towing:

  

Vehicles still covered under Roadside Assistance:

(800) 241-3673
5 years or 60,000 miles, whichever comes first.

  

(800) 521-4140
For 2013 and newer:
No vehicle age or mileage restrictions (Original owner/non-transferable).
For 2007-2012:
6 years or 70,000 miles, whichever comes first.
  

Vehicles no longer covered under Roadside Assistance:

(760) 745-5933
If using a referred towing company, charges can be billed directly to the customers' Repair Order (RO).
If using a non-referred towing company, payment maybe required by the towing company upon delivery.
  

Collision Center:

Glass:

Window Tint:

Paint Protection (Automate):

Sched. Preferences
Scheduling Preferences:
Preferred Advisor: 

 Motor Home: 

Rim Repair:

Car Wash:

Diagnostic Concern/Warranty Work:

Due Bill/We Owe:

Emergency Appointments:

Express Lane:

Flood/Water Damage:

Key Appointments:

Non-Brand Vehicles:

Radio Codes:

Same Day Appointments:

Saturday Appointments:

Smog Checks:

Squeaks, Rattles, and Noises Cutoff Times:

State Inspections:

Warranty Work:

Windshield Replacement:

Recalls
Recalls:
  

Scheduling Instructions:
Verify VIN
Refer to Xtime; enter recall title/number, follow scheduling instructions by clicking the information icon.
If not found, follow instructions on Factory Recall Campaign information icon.
  

  

The National Highway Transportation and Safety Administration (NHTSA) is a government agency created to help inform customers of reported issues regarding their vehicles. It is a national database for all manufacturers. GP1 uses this site as a backup to the manufacturers recall page.

  

Recall titles in Xtime contain a combination of searchable identifiers:

Recall #NHTSA – if applicable
Manufacturer # – if known
Brief Description of Concern – as obtained from NHTSA

Ex. Recall #16V000 (123) Takata Airbag
Ex. ZE7 Oil Consumption Warranty Enhancement

  

Definitions/FAQs:

NHTSA Number

Manufacturer Number

Vehicle Identification Number (VIN)

What do the results of my VIN Look up Mean?

  

Searchable by VIN:

Recall

Service Campaign

Limited Service Campaign (LSC) / Special Service Campaign (SSC)

  

Not Searchable by VIN:

Technical Service Bulletin (TSB):

Customer Support Program (CSP) / Warranty Enhancement Program (WEP):

Limited Customer Support Program/ Limited Warranty Enhancement Program:

Transportation
Transportation:
Drop Off & Early Bird/After Hours:

Waiter:

Shuttle:

Loaner:

Rental:

Valet/Pick Up & Delivery: