Dealership Info
8811 Lakes at 610 Drive
Houston, TX 77054
Ext to Service: 6408
Parts Department: 4508
Sales: (866) 778-4027
Service Hours:
Monday-Friday 6:30am-7pm
Saturday 7am-4pm
Amenities: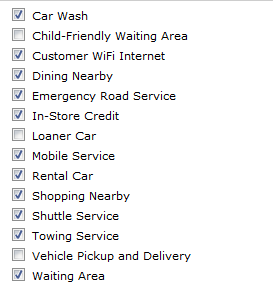 Restaurants in walking distance include: Pappadeauxs, Pappasitos and Joe's Crab Shack
Roadside Assistance:
(800) 243-7766
Click Here to View Owner's Manuals
Coupons
Coupon Policy:
Please inform customers that they must present all coupons at the time of service write-up! 

Click Here for Online Service Specials

Expired/Competitor Coupons:

They will accept expired and competitor coupons from other Hyundai dealerships. (15 days past expiration for printed coupons, 30 days past expiration for online coupons)

Detailing
Detailing:
Detailing is offered at this dealership 8am to 5pm Monday through Friday

Personnel
Personnel:
Service Drive Extension: 6408
This extension will call all advisors.

  

Service Drive Email Link: Right click here to copy all email addresses.
This link will reach the entire service team.

  

Service Advisors:

Armando Pena 7122-4328

Craig Murrell 7122-4330

Steven "Steve" Boyer 7122-4329

Ben Hoang 7122-4333

  

Management Team:

Service Director – Aubrey Cook 7122-4306

General Manager – Jon Letang 7122-4310

  

Other Personnel:

Referrals
Referrals:
  

Towing:

  

Vehicles still covered under Roadside Assistance:

(800) 243-7766
5 years / unlimited miles
  

Vehicles no longer covered under Roadside Assistance:

Imperial Wrecker Service

(713) 298-8495
If using a referred towing company, charges can be billed directly to the customers' Repair Order (RO).
If using a non-referred towing company, payment maybe required by the towing company upon delivery.
  

Collision Center:

Glass:

Sched. Preferences
Scheduling Preferences:
Schedule with UNSPECIFIED unless the customer has a preferred advisor.

Hyundai Fuel Reimbursement Program:

If a customer calls asking about the Hyundai Fuel Reimbursement Program, recommend that the customer phone the hotline or register their VIN number on the Hyundai website (both provided below) to make sure they qualify for reimbursement.

1-877-277-0012

Nitrogen for Tires:

This dealership offer Nitrogen for Tires. 

$39.95 to replace air in tires with Nitrogen.

Car Wash:

Diagnostic Fee:

Due Bill/We Owe:

Emergency Appointments:

Express Lane:

Flood/Water Damage:

Key Appointments:

Lease Returns:

Non-Brand Vehicles:

Radio Codes:

Same Day Appointments:

Saturday Appointments:

Squeaks, Rattles, and Noises Cutoff Times:

State Inspections:

Warranty Work:

Windshield Replacement:

Recalls
Recalls:
  

Scheduling Instructions:
Verify VIN
Refer to Xtime; enter recall title/number, follow scheduling instructions by clicking the information icon.
If not found, follow instructions on Factory Recall Campaign information icon.
  

  

The National Highway Transportation and Safety Administration (NHTSA) is a government agency created to help inform customers of reported issues regarding their vehicles. It is a national database for all manufacturers. GP1 uses this site as a backup to the manufacturers recall page.

  

Recall titles in Xtime contain a combination of searchable identifiers:

Recall #NHTSA – if applicable
Manufacturer # – if known
Brief Description of Concern – as obtained from NHTSA

Ex. Recall #16V000 (123) Takata Airbag
Ex. ZE7 Oil Consumption Warranty Enhancement

  

Definitions/FAQs:

NHTSA Number

Manufacturer Number

Vehicle Identification Number (VIN)

What do the results of my VIN Look up Mean?

  

Searchable by VIN:

Recall

Service Campaign

Limited Service Campaign (LSC) / Special Service Campaign (SSC)

  

Not Searchable by VIN:

Technical Service Bulletin (TSB):

Customer Support Program (CSP) / Warranty Enhancement Program (WEP):

Limited Customer Support Program/ Limited Warranty Enhancement Program:

Transportation
Transportation:
  

Drop Off & Early Bird/After Hours:

Waiter:

Shuttle:

Loaner:

Rentals:

Valet/Pick Up & Delivery: